A: Welcome to "Food Delight", where we bring you new culinary tips to help you enjoy yourselves in the kitchen. We're A and B saying hello to all our lovely foodies.
B: Hello you guys. Winter has come and it's time for comfort food. In today's Food Delight, we'll introduce you to goat cheese pasta, a comfort food that's quite simple, easy to make and tastes so good
A: The goat cheese melts in with the pasta creating a flavorful and creamy dish. When the temperature drops, and it's dark and cold outside, what would be better than to just curl up on the couch with a blanket and taste this super comforting pasta? Pretty sure that could make winter way more bearable and even enjoyable.
B: Agreed. I'm not the biggest goat cheese fan but I loved goat cheese pasta the first time I tasted it. It's perfect for those of you want to spend less time in the kitchen and more time relaxing. This pasta comes together so fast with these simple ingredients: goat cheese, sun dried tomatoes, asparagus, mushrooms, and pasta.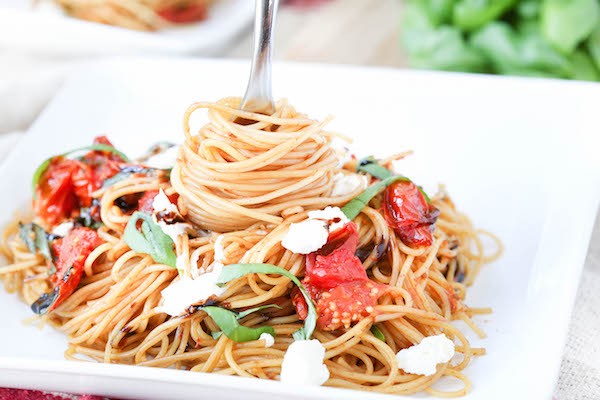 (Source: greensnchocolate.com)
A: Goat Cheese Pasta is full of rich and creamy goat cheese and succulent chicken, and more importantly, it only requires dirtying one pot and takes less than 20 minutes. And today, Abby Chitty from the UK will bring us her homemade Goat Cheese Pasta recipe. "Goat cheese pasta is one of my favorites and it is also easy to make. What you have to do is fry up the chicken. Make sure you fry it with mixed herbs or oregano. It just tastes nicer that way. And then you leave it on the side. Then what you do is create half a pot of double cream and half a pot of chicken stock. First you put in the asparagus bring it to a boil. Then you put in the sun dried tomatoes and mushrooms. Boil everything together."
A: Sun-dried tomatoes are quite easy to make at home. It"s a great way to preserve tomatoes after being picked or bought from supermarket. Simply slice the tomatoes in half, place on a flat surface, lightly sprinkle with salt and place in the hot sun until dry.
B: If this old-fashioned method sounds too time-consuming or you live in an area with few sunny days, you can achieve the same results by baking the tomatoes at 170°F for about 3 hours. Now Abby will tell us how to finish the pasta. "Then you put in the pasta and allow 11 minutes to boil because that's the ideal cooking time for pasta. You want to boil all the liquid off. That helps to create a thicker sauce. And then you put in a whole package of goat cheese. So in the end, what you really have is a thick creamy cheesy sauce with mushrooms, asparagus and sun-dried tomatoes. Then you plate it and put the chicken breast on the top. Actually a secret for this one is it tastes better with the chicken thigh, but chicken breast tends to be easier for you to cook."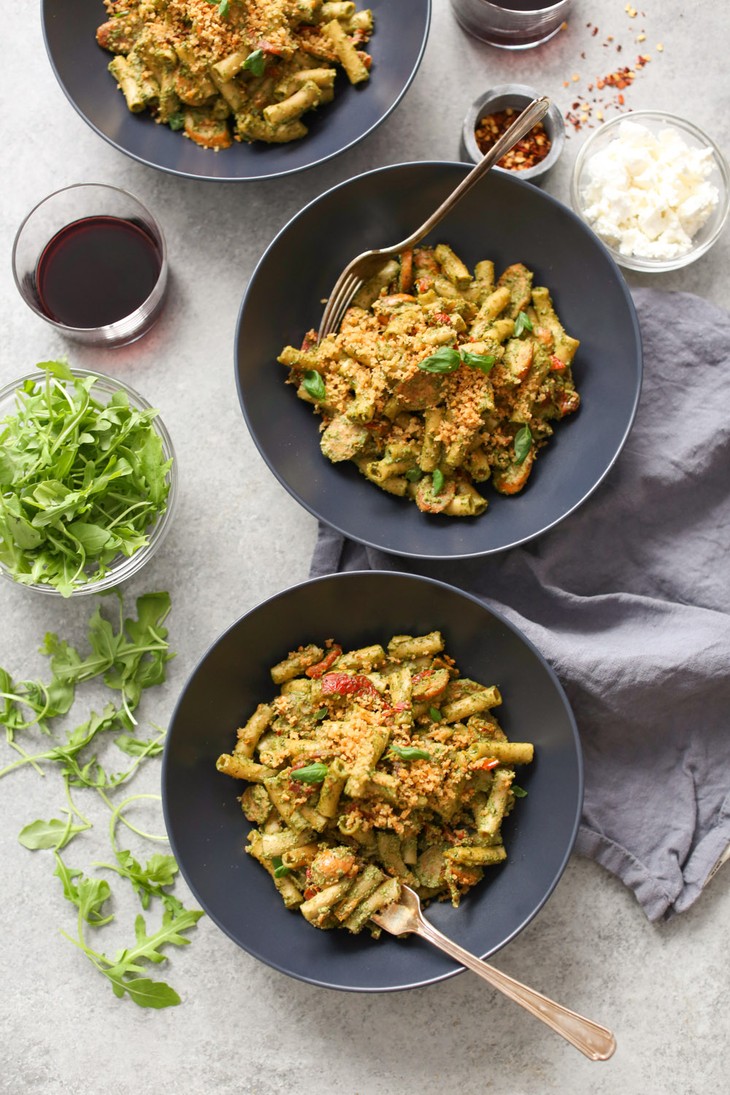 (Photo: dishdomesticate-me.com)
A: I've noticed that, with pasta using chicken, people tend to use chicken breast instead of chicken thigh. It's easy to understand as chicken breast is actually a healthier and leaner choice.
B: But, chicken breast tends to dry out when cooked, leaving dry, chewy meat rather than the chicken thigh, which is succulent and juicy. So, overall chicken thigh is the better choice.
A: This creamy dish is a comfort food that Abby loves cooking and enjoying when she's super busy but still wants something delicious. "I normally eat it when I had a long day and I want that warm feeling that comes with comfort food. If you have people round and you're trying to impress them, this is a good choice. It's also good for a date night."
B: This pasta is best enjoyed fresh. If you cook too much, the left-overs can be stored in the fridge in 1 day before re-heating.
A: This creamy Pasta is so amazingly delicious and satisfying that you will definitely want to make it again and again. If you give this Goat Cheese Pasta a try, let us know about what you think by leaving a comment and rating it. And don't forget to take a picture and tag it on our Facebook at VOV5 English Section, hashtag VOV#FOODDELIGHT#ICANCOOK#. We always love seeing what you come up with.
B: This easy pasta dish has been a favorite of ours and I think you will enjoy it too. Join us next week for more tips on how to add some zest to your menu. Take care!


Nguồn: vovworld.vn